I am really getting into this quilting thing. I never thought I would like quilting, and I don't think I do in the traditional sense. Making a whole bunch of blocks and making a quilt is not what I like doing right now, though even that may come. I like making different kinds of quilts.
Like the Hexy MF quilt. I like handwork.
I have 5 finished stacks now. That means 5 finished fabrics and only 5 plus the centre colour to go. I've decided to do some scrappy centres as well, just to keep things fun.
I have also joined another swap. This is another idea I had pinned a few months ago, so I could hardly resist joining this swap! It's the
*Picture Perfect* Polaroid Block Swap
.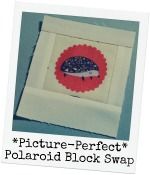 We are swapping untrimmed blocks without the sashing; just the polaroid. I signed up for 20 blocks, but I have a few more good fabrics for this, I think I may just do a few more!
For every block I am swapping, I am making one for myself. That way, by the end of it all, I will have twice as many and a good beginning if I decide to make a quilt of them.
Since I was making the blocks, I thought I also had to try it out with the sashing.
I used Kona Coal and I love how this came together! I decided while I was at it to make a mini 4 blocks wide by 3 long. I am really loving how this looks!
The only thing that stumps me now is how to quilt it. I am thinking stitch in the ditch because I really don't want to take anything away from the blocks themselves. Any other suggestions?
I have to share this picture too.
I was busy sewing blocks and little D must have thought I looked hungry. She came over with some of her kitchen stuff and served me soup and juice, right on my machine. Such a thoughtful little girl.