What a busy last few weeks!
K joined us in December and then we had my sister in law over for two weeks to help out around the house. We decided to switch things up around here and we moved the living room into the dining room and the dining room into the living room and that resulted in a sewing desk upgrade.
But that also meant moving my 'mess' across the room to the new desk and organizing. What a lot of stuff I have! I'm almost done getting everything organized and I will be glad to be done because then I can get back to sewing.
And I better get done quick, because I signed myself up for a lot of sewing.
Every block we make must centre around hexagons. I've already been looking for block patterns and
pinned
a bunch (where did I keep my ideas organized before Pinterest!)
Do you have any other ideas to share?
Then, because the words 'skill builder' caught my attention, I joined the Skill Builder BOM set up by Alyssa at
Pile O' Fabric
. I'm hoping to learn some new things and really get some real quilting skills.
Instructions are already up for the first two blocks and I'm still waffling over colour choices. I picked these out yesterday, but I'm thinking of maybe adding some yellow and taking out the pinks...
What do you think? Or take out the four on the left and add some... I don't know what colour. I'm trying to stash bust for this project, so my options are a little limited. The black is for the background.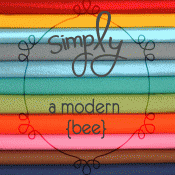 I'm waiting for the solids swap to be finished for that one too yet. Can't wait to see what colours all come back to me.
Now I'm set for sewing this year. I will have to make at least three blocks a month and put together three quilts sometime.
After writing that, I'm reminded of the two unfinished quilts I still have... Better get to that organizing.