I should just stay off the internet.
Really.
I don't know how I find things I don't mean to find, but I do. And then I get suckered in, my own fault, to things.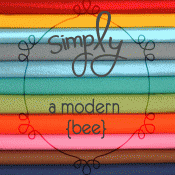 Somehow, I did.
I avoided signing up because, well, baby is due any day now and who knows how busy I will be in the coming months.
Then I saw a solids swap that is tied to this bee.
Well, that seemed doable, so I signed up. No sewing involved, just cutting and sending, and really, I love me some solids.
But now, I am very tempted to join the Bee swap.