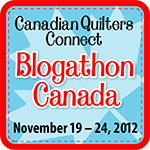 I'm Deanna and I really still don't consider myself a quilter as I haven't finished one big quilt yet.
Almost
, but not quite.
I don't know what to call myself then as I do play around with quilting and paper piecing and all that other quilty stuff. I started with sewing clothes for my little girl and from there I discovered Flickr and well, that was the end of my 'lone' sewing! I found so many inspiring quilters and soon became a blog follower and then a blogger.
So welcome to my little space.
It also happens to be Wednesday... but I have no new WIP's, only one big continuing one.
Hexy MF.
My carpet is not kid proof and little D got hold of chalk paint one day... hence the black smudge.
The bigger this top gets, the harder it gets to piece! It takes up my whole lap and it a little difficult to manage when I have to match up sides without having them pull away.
And I know I said no more swaps until after the baby, but really, I can't not sew something! And swaps are the perfect opportunity for me to make something I wouldn't normally make, like a mug rug.
I stalked my partner and she had a bunch of mosaics made for other swaps so I think I figured out pretty good what to make for her.
Now I have been a bit of a negligent blogger lately due to lack of activity and motivation, and that got me thinking about why I blog.
If you are a blogger, why do you blog?
I came to the conclusion that I do it for selfish reasons. I want to have a place where I can occasionally get some feedback about the things I make.
If you are a blog follower, why?
I follow blogs because I love to see what other people are up to and get new ideas and see styles that are similar but different from my own.
So, I'm curious, what are your reasons for blogging or following?